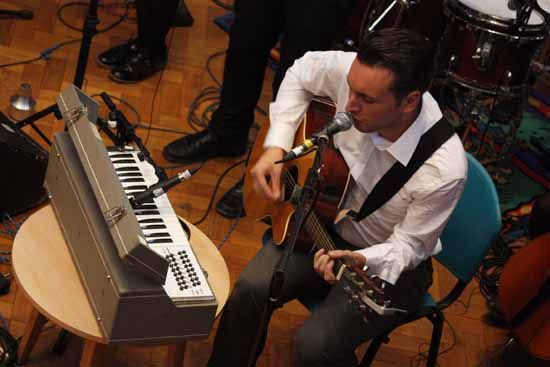 They're not gone for good don't worry but last week By Toutatis played their final live performance in 2013 and what a triumph it was. Singer and songwriter Daniel Cochran is heading out to the heat of the Middle East to teach English and he selected the wonderful barrel roof of Middlesbrough Reference Library as a venue for his last stand for sometime. A studious writer the library has clearly played a big part in his education as it has for so many in the town. Last Monday we were all examining the acts playing beyond the top table in a night of spellbinding brilliance. Truly one of the top events of this or any other year in these parts.
Dressed Like Wolves were the first act up to enjoy the total respectful silence. It is a library after all! It might have been intimidating but they seem to take every gig in their stride. While the trio might quip and joke their song-craft is second to none and in "Stories" they had a brilliantly apt song to close a library set. There were a few indicators like the subtle "Veneers" that point to the next album being a bit special.
Was it nerves or the sausage, chips and peas she had wolfed down after being held up on the Metro that caused Natasha Haws to initially pause? The young South Shields singer songwriter soon opened up with a sparkling set that showcased her incredible talents. What power, range and emotion she can pack into a voice. Lyrics that take you on a ride maybe somewhere north by north east of "Happiness" and ending on soarway single, "Perfect Stranger."
The stage was set now for By Toutatis. The crowd perfectly hushed, cups of tea and hot chocolate quickly despatched. All eyes on the suited Daniel Cochran as he shuffled to the front of the rows of seats and cranked up the wheezing chord organ to sing solo through the attention grabbing album starter "String On A Map." The classical melodrama of "Hero and Leander," the heart wrenching "Continental Drift" and the titanic traditional "Felons Song" took us headlong into the blazing Baroque history folkdom of By Toutatis.
Drummer Ben Muriel wandered from behind his drums to sing unaccompanied before the instrumentation built with added strings to Robbie Major's violin and brass for a finale that was absolutely epic. The anthemic "Flags" was triumphal before the virtuoso Ben Hopkinson led the line with his concerto style piano playing for an emphatic and European "The Songs We Sang to Death." As the last notes rang out between the tomes and periodicals the audience rose one by one to their feet. This was quite simply an outstanding event. A crowning glory from a band that are announcing themselves as one of the most interesting and inspiring ever to come out of this town and hinterland.
By Toutatis: Quite awe inspiring.
Photos – Tracy Hyman