Jam Grantham and Becki Harper – exhibition at Dorman Museum Open Gallery, 1st floor.
Do go along to the Dorman Museum and see a joint exhibition by two exciting young local illustrators.
Jam Grantham and Becki Harper are both ex Cleveland School of Art and Design students specialising in pencil drawings and illustration. Their work has a refreshingly playful tone. This is a selling exhibition and a chance to invest in bright, young, local artists.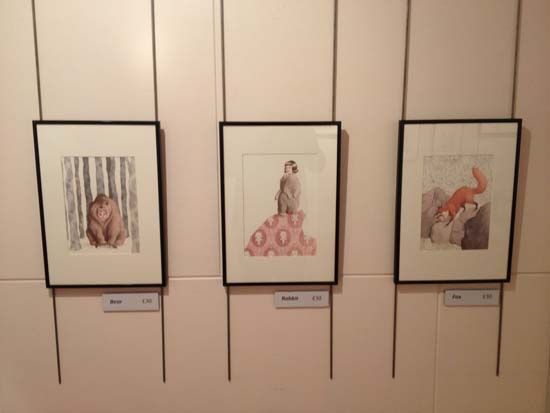 Q: I know that you used to come to the Dorman Museum when you were a child living in Linthorpe.
B: Yes I did I grew up just around the corner so I visited here many times
Q: So it must be nice for you to exhibit here.
B: It is lovely, it is not something I ever would have imagined when I was younger. As I have grown up and gone on to focus on my art, this is such a good exhibition space, it is brilliant, I am very excited about it.
Q: With this being a museum I guess you will get a broader mix of people coming in too.
B: It's good because it is very much a community museum and everyone comes here there are so many things on offer and I think it is nice to mix all the educational activities with art and the space is great because people pass through here to get to the other galleries, so a lot of people will get to see our work.
Q: You mention educational activities but you are actually going to give pointers as to how you produce the illustrations aren't you?
J: Yes we have a little cabinet to show how we work. We have sketchbooks, pencils and bits of media that we use. We started at Cleveland College of Art and Design just around the corner, so this will show how we found our feet, found our way of how we work.
B: It is good to show people the process, from ideas to the final piece of work. And also we have got some colouring in sheets for the kids so it makes things more interactive as well.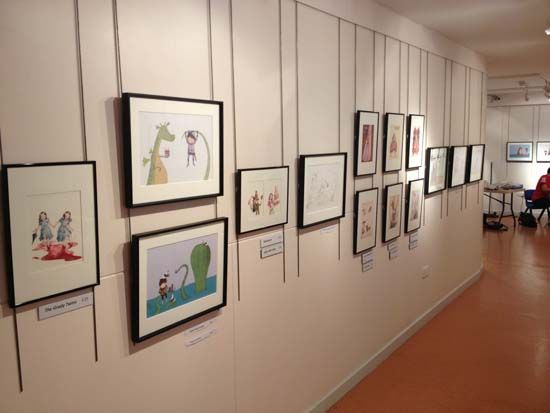 Q: Definitely. And with it being in the Dorman it is picking up on how you started to be inspired Becki.
B: Yes a lot of work is very children orientated especially Jam's work. It is nice to make things that appeal to everybody. A lot of art is more grown up based so it is good to appeal to families.
J: We are both quite heavily into books an aspect that we try and get across in our work is that it is for the children but the parents buy the books so it has to appeal to them as well as the child. I work from what I know, childhood events. Things that make me laugh.
Q: I picked up from the pre publicity that you like to put together unlikely juxtapositions.
J: Yes I just like unusual pairings for example like my granddad, he is big man with a big, bushy beard and tattoos I thought it was funny as a little boy.
B: You used to think he was a sailor.
J: Oh yes when I was a little boy I thought he was a bit of a pirate with his own ship but it was only maybe five years ago that my elder sister told me that he was a bus driver. It was simply because he went fishing all the time and his tattoos and with his beard as well. So he was very inspiring for a lot of stories.
Q: You both live in York now?
B: We do yes. We went away to study in Bristol because the University was good for art and we fancied a change but living down there we it was missed our families and missed the way of life up here. So we moved to York it was somewhere we visited before we left and its nice place to settle and it is easy to get to all the other major northern cities
Q: Are you going to coming up quite a bit while this exhibition is on?
B: Probably yes. We do come back quite a lot. I run events here such as the Switch Off  event in the Dundas Arcade later this week. It is nice that we have gone away and made new relationships and still have old ones as well. It is like we have done a full circle really from moving away we have got friends all over the country now. Networking.
Q: I have looked at a couple of pieces of your work and there seems to be a sense of real nostalgia in what you do.
B: Yes and especially your work Jam you look at things that you enjoyed when you were growing up.
J: I am an 80s child and I am heavily influenced by old television shows and old toys. I am strongly inspired by what I was like when I was a child. Looking back. I had messy hair. I was very accident prone. I later on developed this into my art showing me getting into mischief.
B: A lot of my work I really am inspired by vintage graphic. I love the look, the hand made feel and the colours as well especially. So that is something that I try to do bring a lot into my work. I really enjoy creating things by hand. So it is a homage to that era where most things were painted. I really admire the skills that artists back then used to have.