It was the hottest ticket in town and only the most special champion children were invited. Middlesbrough FC's Golden Ticket Party was the place to be this Christmas time.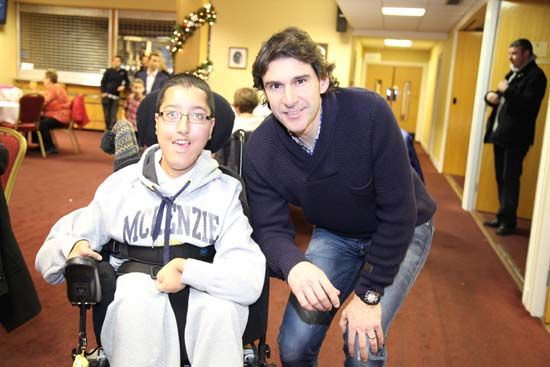 Nearly the entire first-team squad and manager Aitor Karanka delighted some very special children to give them a unique Boro Christmas treat at the club's Golden Ticket Party held in the Riverside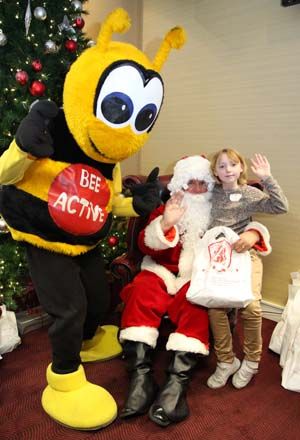 Every year the club honours "Champion Children" who represent the most deserving causes in the local area. Included are youngsters who have fought against serious illness or have bravely cared for brothers and sisters following the loss of a parent. Other youngsters shop for an elderly neighbour or care for a sick relative.
The Boro Champion Children judged to be the most deserving were the VIP guests for the very best party in town.
Adding to the fun was a visit from Santa Claus himself with a special present for each child. Boro mascot Roary the Lion was there to help with the games. Players and Boro staff joined in helping colour in pictures and designing Boro shirt models.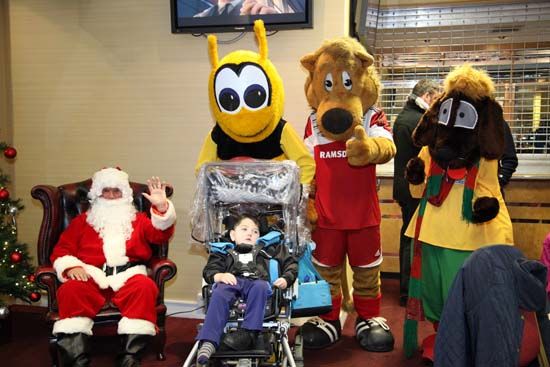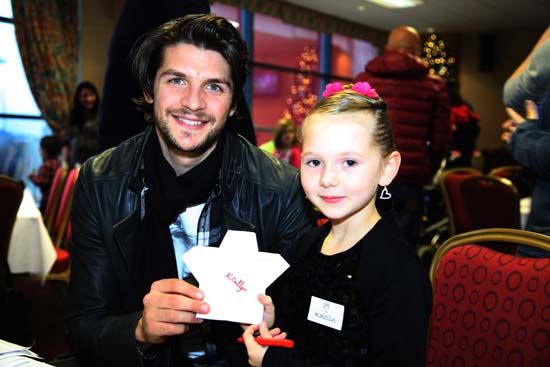 A good few autographs were signed and photos posed for. A balloon modeller made the most bizarre and fantastic animals. Tattoos applied by a face painter, while food and music were laid on for all. And at the end of a superb afternoon the children were each given a Boro party bag to take home.
Photos taken by Tracy Hyman
Interview Usmaan Shabir (pictured below with Boro striker Curtis Main and mascot Bee Active)
Q: Have you enjoyed the party?
Usmaan: Yes I've enjoyed everything.
Q: Are you queuing for your present off Santa?
U: Yes
Q: Would you like a Boro win?
U: Ideal present would be probably Fifa14 for my xbox.
Q: I think the first time we met you were showing the Boro players how to play on the xbox on the big screen at Butterwick Children's Hospice. Did you get any autographs today?
U: Yes I've had all the players' autographs.
Q: Great that there are so many players here.
U: I know it is brilliant. I've actually asked to be a mascot as well. I would love to be a mascot, walking on the pitch with Marvin Emnes would be brilliant.
Q: Oh that would be a good thing for Christmas wouldn't it?
U: Yes it would be.
Boro Manager Aitor Karanka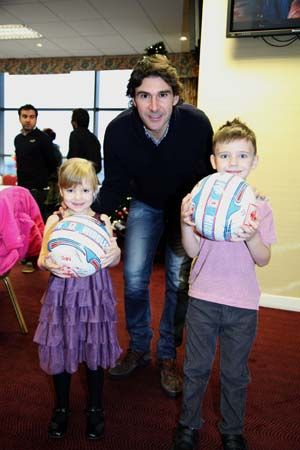 Q: Are you enjoying the Golden Ticket Party?
AK: Yes, I think it is very important for them, that they feel as close and I think it is important for us to feel they are as close to us.
Q: I have heard before that you feel that the club is like a family. And this is the club being like a family with the fans.
AK: Yes I think it is always good to have this feeling because we never can forget all the people who are behind us supporting every game. We need to be close with them.
Q: Unfortunately in the last three games we have conceded goals right at the end which have been so costly.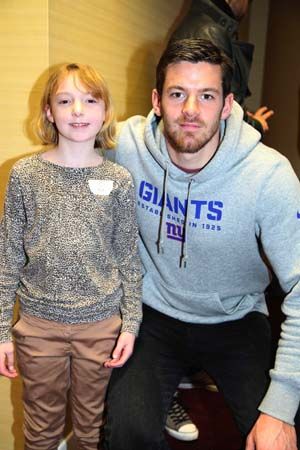 AK: Yes I have been disappointed but we need to keep working but the players attitude is always good we need to improve and not make so many mistakes.
Q: There have been a lot of Boro supporters at away games lately does this help the players?
AK: It was lovely with the Middlesbrough support we had in Leeds, Birmingham, Derby. In all the stadiums where we played there were a lot of people from Middlesbrough and we need to win our  games for them.
Q: Would your Christmas wish be to win some games over Christmas time?
AK: All my life I think health, family and a lot of things are more important than football. When you are a coach or a player you want to win the games but I think there are a lot of things more important than football.
Photos –  http://www.tracyhymanphotography.co.uk/