Middlesbrough's Olympic long jumper Chris Tomlinson hopes that school children can make small steps through the Golden Mile leading to a giant leap in fitness.
British long jump record-holder Chris Tomlinson is encouraging kids in his Middlesbrough hometown to take a leap into regular activity by supporting Tees Valley Leisure's launch of The Golden Mile.
More than 3,000 children from 10 Middlesbrough primary schools have already signed up to take part in Tees Valley Leisure's year-long physical activity programme.
London 2012 Olympian Tomlinson visited Park End Primary School, one of those on their marks for the free activity programme, to join pupils in encouraging more to go the Golden Mile.
Wholly funded by Tees Valley Leisure, the Golden Mile sees all young participants encouraged to walk, jog, run or cycle a mile a week, covering 50 miles by the end of 2014.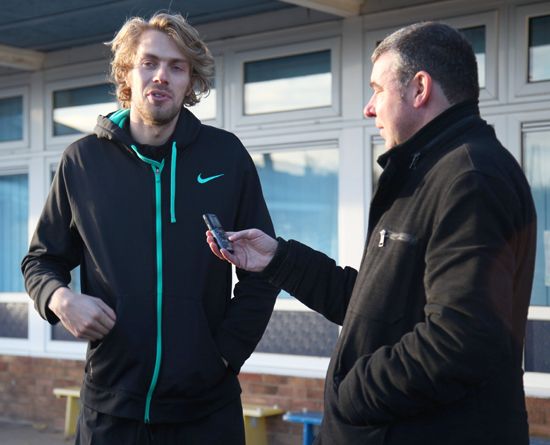 CT: I've been invited down to Park End Primary School to support the Golden Mile Event. It is a great idea. It is basically for young kids to get involved in sport and try to do a mile a week.
Q: The aim is to get 4000 involved in the scheme so that could have a really have a big effect on child health in the area.
CT: Yes obviously it is really important that we try to get as many kids involved as possible. Healthy lifestyle is very important nowadays. When I was growing up nigh on 20 years ago we only had 4 channels on tv and computers weren't as good as they are nowadays. They took 5 or 10 minutes to load up whereas nowadays you have got hundreds of tv channels, you have got the internet, all the games consoles to compete against. So it is great that schemes like this are brought forward and allow easier access for kids to get healthy.
Q: And get a feel for sport and get into it early.
CT: Yes. We can see sport on lots of different levels really. I think some people only look at the elite level sport but I think it is the wrong thing to do. People get into sport because ultimately they enjoy it and it is good for you. We can't all necessarily be Olympic champions or go to the World Cup or play for England or whatever but what we can do is we can all enjoy ourselves and exercise and lead a healthy lifestyle and I think that is what we are supporting and that's a good message to get over.
Q:  To get outside?
CT: It's not all about this person's so fast or this person's so good at this. It's sport for all really. Just getting out and enjoying exercising. It doesn't matter where you finish or where you get on it's that you are doing something that is basically has a positive impact on your life as opposed to a negative.
Q: I don't know about you Chris but when I was at school, I would walk to school and after school I would play outside but I'm not sure that happens as much now.
CT: No I don't think it does. For me I would walk to school. I grew up in Middlesbrough and every night we would be kicking a football around. Obviously in summer nights we would be out on the school field playing football and then in the winter we would find some street lights to kick the ball against in a game of wall'y. Tuesday and Thursday nights I would be down at the local athletic's track, more organised port but on other nights it was really getting out there and riding our bikes around and being healthy young kids.
Q: What are you doing at the moment?
CT: The months of October, November and December are pretty quiet then it kicks off at the end of January with the indoor season. Then it rolls from January and February with the world indoors in the middle March. Then goes to the outdoor season. There are the Europeans and Commonwealths next year. And the Commonwealths are funny really because it hasn't really been talked about too much but with it being in Glasgow once we get to Easter time next year people will start to talk about it. It obviously won't be as big as the Olympics in London but I think there will be a fair bit of excitement kicking round the UK for it.
Q: The tickets flew out didn't they?
CT: No, I think most of the tickets have gone and obviously with the demand for tickets for the Olympic Games it has certainly brought a lot of people into sport. I think people want a piece of the action, the tickets have gone quick and that is good to see.
Photos – Tracy Hyman – excpet fro top photo supplied through Dave Allan Communications