Runners on the look-out for inspiration, insight and encouragement are being invited to take part in free sessions.
Community Running Groups are officially launched next Tuesday (March 25) to help people get in shape for the 2014 Middlesbrough 5k Riverside Run on Sunday, June 1.
The sessions are free of charge and are open to all runners of all abilities, even those who have never run before.
I joined the Swift-tees group on Tuesday morning at Hemlington Lake where we were put through our gentle paces by coach Craig Lightfoot. Afterwards I chatted to one of the runners to find out exactly what kind of a difference the community running had made to her life.
Deirdre Forth started running with Swift-tees in 2011
Q: Had you ever run before?
D: No. I didn't want to run.
Q: Would you have dreamed of doing anything like this?
D: I have never dreamed in my whole life that I would be running. Never. Two years ago I would not have believed where I am today.
I do the parkruns I have done 10ks. 3Ks, 5ks, Middlesbrough 10k and Hartlepool 5 miles now.
Q: And have you met many people through this?
D: The social life is brilliant. Lovely friends, really friendly. I just love coming here. What else would I do I am retired now. I just thought when I am retired I want to get fit but I didn't like running, I didn't want to run. My daughter, Sharon, got me involved with parkrun and I walked the first time I went down. I thought I like this but I am never going to run and then 8 weeks into the parkrun I started jogging and then I started running. I didn't do a full parkrun I ran a bit and walked to a lamp post that kind of thing and then I got involved with a little group called the I runners and they encouraged me and supported me tremendously and then I started running from thereon and I have been going ever since. And then I joined the Swift-Tees last year and I'm here now today and I am hoping to do the Edinburgh Half Marathon. That is an ambition of mine to do a half marathon this year, whether it will be Edinburgh or Redcar I hope to get there this year, that is my ambition. I hope I fulfil it.
Q: Are you fitter than you have been for a long time?
D: Gosh. When I go down to Whitby I make a point of going up the 199 steps without stopping. Whereas before I was only going up a few at a time and stopping and getting my breath. It is a great achievement for me from where I was to where I am today. And it is all through the encouragement and support of Swift-tees and parkrun.
Q: Can I ask you whether you have lost any weight?
D: I have lost 4 stone. I hope to get another half stone off but I am not desperate to lose it but it is a milestone for me if I get there.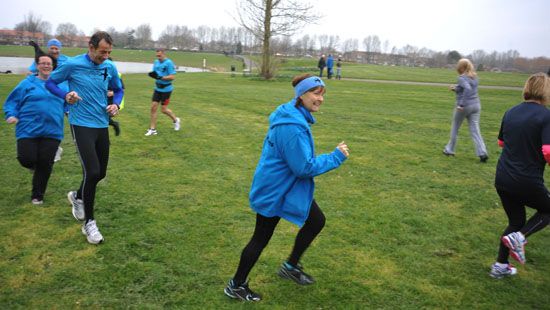 Q: So is it fair to say that you hadn't run at all until you were in your 60s.
D: No I used to work nights and I was quite fit through pulling pallets around doing manual work in the warehouse where I worked but then they brought in folk lifts and I was sat on my backside and I put on the weight then and I was just so unfit and unhealthy and I couldn't walk without huffing and puffing. I just couldn't keep up and it wasn't like me at all. I was just so miserable and down about it and I thought when I retire I will do something about it and that is what I did.
I love walking. I walk all over the moors now and everywhere. I walk up to about 6 miles when I go out. I love walking but I like the running as well.
Q: Your whole family are involved aren't they?
D: My whole family are involved in Swift-tees and parkrun. They are all now keeping fit. Even my daughter in Ireland goes kayaking. My nephew in Australia does the parkrun out in Perth, he and his wife. I have got them doing marathons and triathlons. But over here, my daughter, Sharon Caddell is the Director of Stewart Park parkrun. My grandson, Donovan, did the Albert parkrun at the age of 3. We go there most Saturdays my husband and I Fred. Fred is a marshall and we are there 8o'clock on a Saturday morning to help set up the course for the parkrunners then I either marshal, run or do tail running, encouraging and support people around. And it is a lovely friendly place. I love it. I love the social side of this as well.
Swift-Tees meet on a Tuesday morning at 9.30 we run or walk or jog around HemlingtonLake and then on Wednesday night we meet around 6.30pm but it is more intense because some of the faster runners do interval training and pretty good they are, they have done quite a few marathons and half marathons between them.
On Wednesdays some still walk around the lake. If you want to walk or want to run we are not compelled to do certain laps in certain times it is all about getting us fit and active. That's what people like.
Q: And your aim is to do a half marathon this year?
D: Yes I want to do it. So, fingers crossed that I get it done.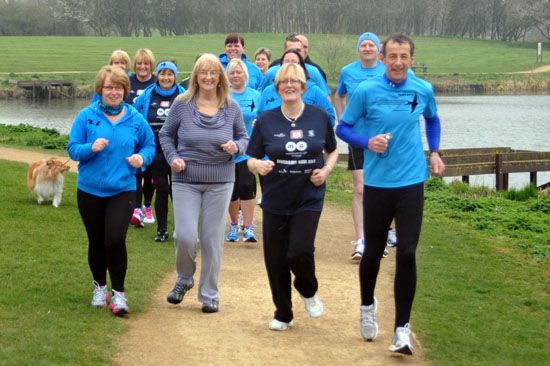 Community Running Groups meet –
Tuesdays, 9.30am: first session Tuesday, April 1, meet at the Habinteg Community Centre, Cresswell Close, Hemlington
Wednesdays, 6.15pm: first session Wednesday, April 2, meet at the Habinteg Community Centre, Cresswell Close, Hemlington
Thursdays, 6pm: first session Thursday, April 3, meet at the Captain Cook Birthplace Museum, Stewart Park
Anyone can come along. All abilities welcome.
For those bitten by the running bug, the sessions will help pave the way to a training programme for the popular Middlesbrough Tees Pride 10k Road Race which returns for its tenth edition on Sunday, August 31.
The two races have proved a magnet for local runners, and continue to grow in popularity with many not just aiming for a personal best time but also raising money for great local and national causes.
Councillor Nicky Walker, Middlesbrough Council's Executive Member for Environment, said: "The Riverside Run and Tees Pride 10k are now recognised as among the best runs in the region, and attract thousands of runners to Middlesbrough from far and wide – and we want as many people as possible to feel able to take part.
"The Community Running Groups are open to all, and offer support, advice and training partners to help people prepare for the Runmiddlesbrough events.
"It's a great opportunity to train alongside qualified coaches at any of the three following weekly sessions, and is just the incentive people need to get started and stick to a training schedule."
For further information about the sessions or to register, contact Scott Hydon on 01642 515625 or email scott_hydon@middlesbrough.gov.uk
For further information, training plans and to sign up for the Runmiddlesbrough 2014 races, visit www.runmiddlesbrough.com