Members of the Hindu communities in Middlesbrough and Durham have worked with museum curators to create a new exhibition about their faith.
The exhibition, 'Embracing the Divine: exploring Hindu Faith, Devotion, and Celebration', at the Dorman Museum, Middlesbrough until Friday, July 4 2014.
The exhibition is designed to give an introduction to Hinduism as both a religion and a way of life.
The experiences and opinions of local Hindus are reflected throughout the exhibition which explores themes such as stories, celebration, family, community and personal worship.
The exhibition contains objects loaned from Durham University's Oriental Museum including historic artefacts, personal shrines from India, and photographs of Hindu worship taken by the internationally renowned anthropologist, Stephen P. Huyler.
These are displayed alongside images of local Hindus' own household shrines and a film showing Holi Festival celebrations at the Middlesbrough Hindu Cultural Society and Temple.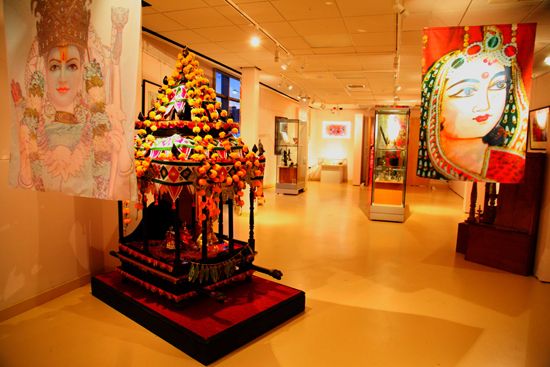 A Banyan tree installation created by the local artist, Bub Bacon, is a prominent feature in the gallery – this tree represents the act of worshipping deities that reside in trees and other sacred natural features, which is a common practice in India.
Lauren Barnes, Oriental Museum exhibition coordinator said: "Embracing the Divine is a wonderful chance for people of all faiths or no faith to come and find out about Hinduism and experience the variety of this vibrant and ancient religion.
"I hope many will have fun at the exhibition while it is here in Middlesbrough and enjoy interacting with the tree and the shrines – which are a true 'must see'."
The poster for the exhibition has been designed by OrmesbySchool student, Jordan Clarke, who won a Middlesbrough-wide competition to create the design.
Jordan will receive a gift voucher for £60 and the Middlesbrough school will receive £100 in book tokens.
Second place was awarded to Siobhan Haycock of St. Edward's Primary School and in third place was Lia McGlade of OrmesbySchool. The winners' work will be on display at the Dorman Museum for the duration of the exhibition.
Senior Curator of the Dorman Museum, Phil Philo, said: "The Oriental Museum, Durham, has given us a unique opportunity to broaden awareness of an important section in our multi-cultural society and I am sure that our visitors will enjoy the colour and vibrancy of this fascinating way of life."
Embracing the Divine: Exploring Hindu Faith, Worship, and Celebration is being supported by the Arts Council for England.
I spoke to Lauren Barnes, Oriental Museum exhibition coordinator about the exhibition that is showing now at the Dorman Museum, Middlesbrough.
Q: Tell me about the background of this exhibition, please.
Lauren Barnes: It was a collaboration between the OrientalMuseum, Durham where I work and Middlesbrough Dorman museum. They worked together on Stories of the World and we continued those links. The OrientalMuseum has a lot of historic collections of Hindu objects which are on display here and we've also recently in the past few years been given the shrines which are on display as well, they were donated to the OrientalMuseum. When we got the shrines we had to display them, basically they are too beautiful just put them away in the store and never see them again. Also they are very large. When we have these things together and the connections with Middlesbrough, through talks with DormanMuseum, we realised we could have a community project involving the local Hindu community and we could get their opinions about our objects and put them together to introduce Hinduism. I think it is a very worthwhile subject. A lot of people know a little about Hinduism, maybe about ganesh or…
Q: Karma?
L: Or karma or yoga. People know a little about Hinduism but it is very difficult to find out more in a sense. When I have been learning I have found there is only so much you can read, basically you have to experience it. Going to a temple it is all about experiencing the sounds, and the colours and the lights and the senses, it's kind of like everything. That is the idea of trying to have this in the gallery so that people can experience it.
Q: We can hear the sounds and the colours are so vibrant and I guess you would have the aromas as well.
L: Yes, I'm still thinking of ways to get aromas in the gallery.
Q: The aromas will be quite a big part of it.
L: Yes, especially after ceremonies in Hindu Temples they can use different spices and scents and so it really hits all your senses.
I am trying to capture all that in the gallery so it gives people a great experience and an understanding of Hinduism and what it's all about.
Q: You worked with the children designing the posters.
L: That was something I was really keen to do. I was quite artistic as a child and it was great whenever an opportunity like that came along because it is great to be part of something. If you win it is fantastic but it also gives you chance to learn about cultures. The posters that we have got on display, you can tell that every single child has learned a lot about Hinduism and has really grasped it as well.  So it is really good to have that involvement and connection to local schools as well.
Q: You used two of the prize winning designs as a poster and an invite for the launch night which must be a real thrill for those children.
L: Yes I hope so and something they can keep for ever.
Lauren Barnes from Oriental Museum, Durham – Project Coordinator and Exhibition Curator.
The exhibition, 'Embracing the Divine: exploring Hindu Faith, Devotion, and Celebration', at the Dorman Museum, Middlesbrough until Friday, July 4 2014.
The Dorman Museum is open from 9.30am to 4.30pm Tuesday to Sunday.  Entry to the museum and the temporary exhibition is free for all ages.
Photos – Tracy Hyman
www.tracyhymanphotography.co.uk
Part of Middlesbrough Local History Month