Four young entrepreneurs competed last weekend to be crowned Middlesbrough TestTown winners and receive £500 and a place in a national final. The idea of TestTowns is to breathe new life into the nation's high streets help young businesses test out their ideas by utilising empty shop units.
Today I am profiling one of the competing young businesses in the scheme, supported by Middlesbrough Council and Middlesbrough College that offered budding entrepreneurs aged 16-30 business mentoring and an opportunity to road test their ideas in town centre premises.

Earlier this year the charity Carnegie UK Trust announced that Middlesbrough had been chosen as one of seven towns and cities nationally to take part in the TestTown initiative.
I chatted with Moments in 3D – A portable, fast 3D printing business producing portraits and bespoke models. They traded in Hill Street Centre last weekend and have an office in central Middlesbrough. One of only two of the businesses that are locally based.
Q:Please tell me a little bit about your business and what you are doing with the 3D printer.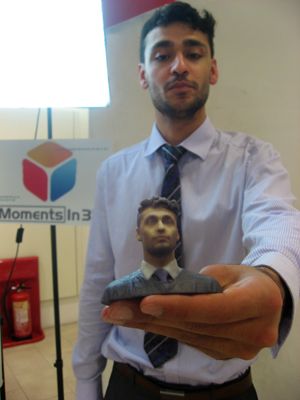 A: Moments in 3D: we've got 3D technology helping us to make a miniature or sculptures of people. We take a few seconds using the 3D scanner and scan the person and then we use softwares to edit it and get it perfectly done for the print. We use 3D printers to actually print the person with all the full colours and all the details. So that's it.
We could turn up to peoples venues, like a wedding. Scan the bride with all the details, the make up and the ring and everything else and then it only takes up to a few hours to print it out. We could actually hand it over on the wedding day so they could pop it on their cake. Or if they wanted it a bit bigger it would take a week to deliver it in a bigger size.
Q: So what you are saying you could make miniatures of the bride and bridegroom and they could be sitting on top of their own wedding cake.
A: If they wanted to for the day certainly or if not if they wanted a bigger version it will take a week to deliver it over to them.
We have lots of samples to see today. We are active. Moments is predominantly taking 3D technology to peoples doorstep but we have other products that do 2D designing 3D designs and 3D printing so we are pretty active in the 3D world.
Q: How long have you been operating?
A: We are a start up business so we started early this year, operating from central Middlesbrough, we have only been going 3 or 4 months at this moment. So it is not that long. This opportunity doing a TestTown is fantastic for us to get to see what the public's reaction would be towards our products and obviously get some sales going through.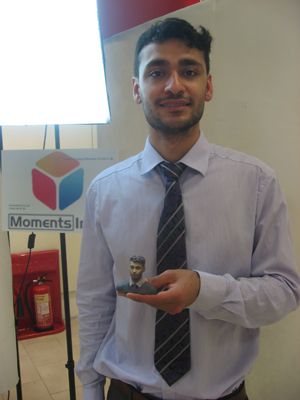 Q: Have you had much response today in this unit?
A: We have had loads of sales so far. Well over £100 already. It is a great opportunity that they have given us to see what people's reaction is in this busy shopping mall. Obviously all the support has been absolutely great.
Q: How useful were the seminars you had before hand?
A: Yes we have had some classes before to just get ourselves prepared. Obviously you come into a shop it is not that easy. You need to know the legality etc and we have been to classes for it. They have trained us up. All this help from the TestTown people has been really great but so has the support been from the local people. The council has been great and so have the management of the Hill Street Centre.
Q: 3D printers have been in the news a lot lately with all the possibilities they are opening up in the medical world etc. A lot of us will not have seen this application. Just to see you holding a model of yourself shows the possibilities.
A: Absolutely. What we do is take this technology to people's houses. 3D technology is at the moment mainly used in engineering applications. But there is a massive gap here and we can actually sell this to the public.
Not only selling it but this is moving forward from having a picture on your mantelpiece to having a miniature of yourself on your mantelpiece. So it is just like moving forward. It is what I would like to call physical photography. That is what we call our packages at weddings and family events.
Can I just say check our website www.momentsin3d.co.uk and check our facebook page again momentsin3d and we have a youtube channel as well.