Get Down With General Sherman was the request from the Middlesbrough band launching a debut album last weekend. The night before the official launch of Cattle and Cane's Infant Hercules, General Sherman were heading a bill this side of the Tees. The Westgarth Social Club was abuzz with anticipation as the band that have grown up in the music venue came of age promoting their first long player release from the main stage.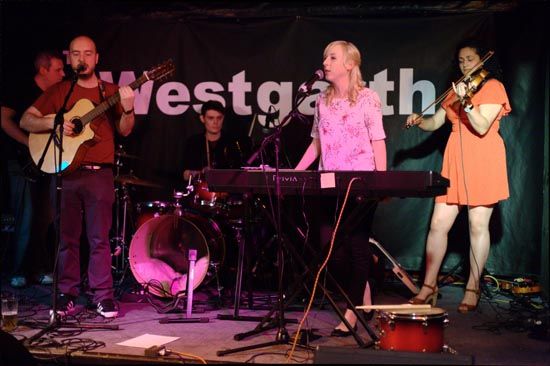 The show was kick started by a stylish singer-songwriter in James Kruman. It is not just his tartan trousers that are striking, James is a story teller and combines the word play with a catchy melody. There is more than a hint of Donovan about him. James certainly knows how to write a song title as well, "Lynch a Millionaire" and "The Aviator" are both intriguingly named songs; titles to immediately draw you in.
I am not sure how well Village Green would go down at a village fete. Their three thunderous guitars would probably upset all the coconuts as well as the apple cart. There was nothing pastoral about their double barrel ode to the English Countryside. The lads play upbeat stuff but know how to pull a few surprise rhythms out of the rocking fire. In "Carnaby Street" Village Green performed a former single with an irresistible riff to win them plenty of points for style.
I
t is looking like a great summer for releases by local acts. Dressed Like Wolves have a new album on the way, also recorded by the General Sherman producer, Matt Brown. He was seated crossed legged on the stage twanging a 2 stringed banjo alongside his lupine co-hort, Rick Dobbing. Dressed Like Wolves have an endearingly shambling approach that in no way masks the quality of their music or arrangements. Rick's scratchy guitar and almost equally scratchy vocals combine with Matt's wheezy keyboard and growling guitar on some outstanding songs.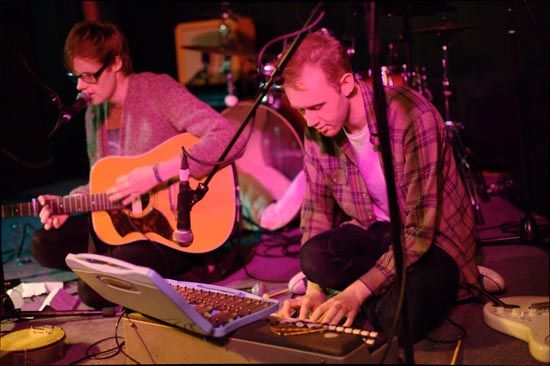 So to the main act and General Sherman began in gentle fashion, with lilting strings of electric uke and violin. They then gradually inducted us into their world of musical magic, of half whispered vocals, of soothing violins, and of compelling rhythms. It is a twilight existence somewhere in the flickering half light between folk, alternative pop and classical. The band have described the album as a descent into chaos and a dark place. Live they certainly built an intensity. They beckoned Liam Saunders to the stage to guest on a raw and roaring guitar.  Later on through the set, Tracy Hyman put down her camera to duet on violin with General Sherman's Liz Jayasuriya. We certainly felt the sparks flying from an emotional fire during General Sherman's tilt at Last of the Mohicans, before the violins led us out into a melancholy 'after the fire' calm. It was a real powder keg of a song.
I do urge you to track down this exceptional album and then you too can Get Down With General Sherman.
Photos – Tracy Hyman