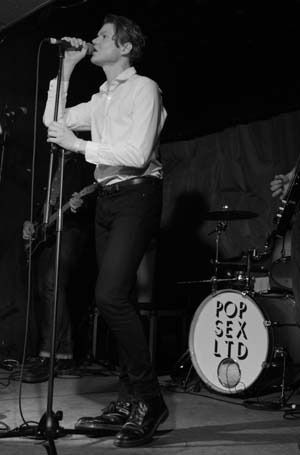 A packed house on a swinging Saturday night in downtown Middlesbrough welcomed some favourite sons back to their native north east. Sunderland's Frankie and The Heartstrings jolly jaunt across the UK came to a fitting funtime finale at the Westgarth Social Club topping a blindingly good bill.
Life after the Chapman Family is a darker shade of dark for Kingsley Chapman and The Murder. Yet there are a thousand and one intricate tones and contours to the film noir like melodramas and fractured melodies through which Kingsley croons and cavorts. The 7 piece provide magical and majestically moody music. The keys of the piano roll like an ocean swell, violin, trumpet and trip wire guitar fight for air against double bubble drumming tempest and fury. There are fireworks galore, Bad Blood rails against the destruction of the NHS but there are also tender and enchanted corners. The set ends with the opulent Olympians, with Kingsley surfing the sonic boom.
Originally from Humberside, Frankie's national tour support are aptly good at building bridges. With a sound that spans late 80s/early 90s shoegazer, Night Flowers, slick, cheery, indie guitar brand is pure and simply smile-aholic medicine. Boy/girl vocals interchange, guitars shimmer and slide. Pure pop euphoria, Night Flowers feed the senses between Murder, mystery and Frankie and The Heartstrings.
So to Frankie, our favourite north eastern pop star and record shop proprietors. They dive straight in by first footing with brand new release, Save It For Tonight. The Sunderland sons follow on with a few new songs, a few classics, a new bass player and Frankie himself, as always the consumate front man. Behind him Dave, the not so silent drummer, was sporting an outrageous Bully Beef and Chips type 80s haircut. Ever dependable but never expendable, Frankie and The Heartstrings ply us with their upbeat, high tempo alt pop from the very start. Crowd showering chorus lines take root and have you dancing and indeed singing along, long before the final ringing chords. There is even an a capella opening reminiscent of guitarist Ross Millard's Futureheads tendancies.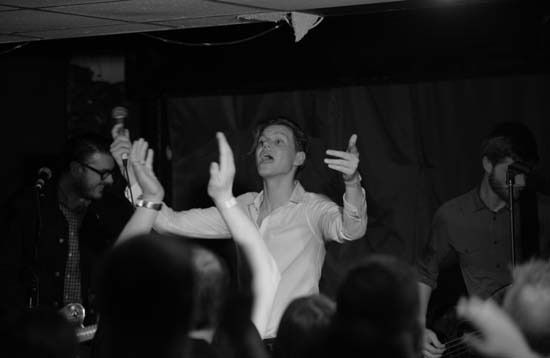 We soon plunge into the Heartstrings hit parade, That Girl That Scene, I Still Follow You, and Photograph all capture and captivate the now merry throng. Frankie urges all to pass a Simon Cowell style judgement of a brand new song, Think Yourself Lucky, which receives a firm thumbs up across the room. We end the night, audience arms swaying, as Frankie says in true Top of the Pops fashion, to the final heart warmer Don't Look Surprised.
With the new track, Save It For Tonight out at present and an album called Decency scheduled for July release, the guys with the record shop/gig venue in the City by the Sea will be guaranteed to be stealing hearts and minds again this year. Our favourite north eastern pop stars are truly the bees knees.
Photos Tracy Hyman
www.tracyhymanphotography.co.uk
Robert Nichols