Last week my nephew and niece were over in the UK from Hong Kong. They both are very sporty youngsters and so the week involved a lot of ferrying back and forth to sports venues, the excellent Tennis World and the equally outstanding Top Corner Sports football academy of former Boro player Jamie Pollock. Every day we drove past the new sports village and fed off the buzz from the number of people out on the athletics track, being coached on the astroturf pitches or watching from the grandstand. We just had to ask for a closer look and were very kindly afforded a full tour on Thursday tea time. What a facility, we were not disappointed.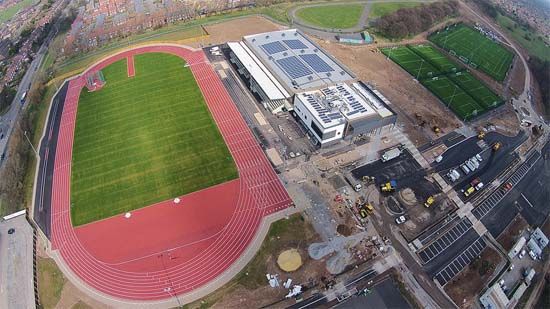 Many thanks to Claire Wordsworth at Middlesbrough Council for asking on our behalf and Duty Manager Dave Morgan for kindly being our extremely helpful and amiable tour guide. Sam, Ella, granddad Neville, young Olivia and Mickala were the very willing participants. An age range of 80 down to 10 and male and female. There was something here for everyone.
It was a tour that started from the comfortable chairs in the light and bright reception area. Striding through the cafe we walked through the children's play area, the kids eyes lit up and Dave kindly offered the younger members a chance to end the tour in the climbing, sliding and soft obstacle course.
Through the door into the indoor sports hall seating 300 on retractable seating. It was set up for basketball, the long established Tees Valley Mohawks have found a home here, as has the very successful Middlesbrough Futsal. That is the 5-a-side like game that Brazilians grow up on and where they hone their skills. Another increasingly popular indoors sport, roller hockey will also utilise the large sports hall space.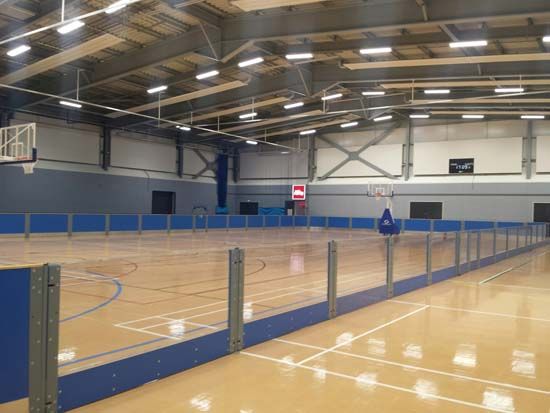 At the back of the sports hall there is a 35 metre long sprint track, no doubt The Teesside Tornado, Richard Kilty will be able to practice his lightning starts here, as he works on defending his World and European indoor 60 metre sprint titles. In one corner is a weights section for the really big super heavyweight lifters. Through the other door WattCycle are busy spinning on their short, sharp, shock work outs.  Joanne Bannatyne and former Royal Marines Commando, Lee Howe have invested £75,000 in this fitness centre.
Upstairs is the big gym room, a far cry from the converted squash courts at Clairville Stadium with lots of natural light and plenty of hi tech machinery. Then it is a short hop to sit outside in the grandstand. Below which British Olympic long jumper, Chris Tomlinson was just finishing a session. The kids were excited to see him. That is all part of the attraction at the sports village where youngsters can be mentored and inspired by local athletes like Tomlinson, Kilty and GB distance runner Matty Hynes, Commonwealth medal winning wheel chair athlete Jade Jones and 400 European Championship metre track star Rabah Yousif.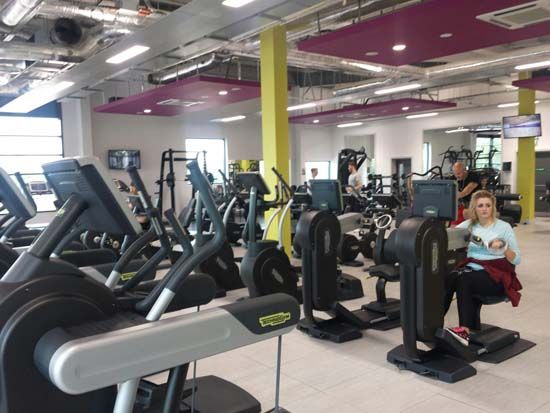 The track itself is fantastic, having that eighth lane that Clairville was lacking to allow it to be used for more competitions. There are long jump pits and other permanent facilities for field events such as pole vault.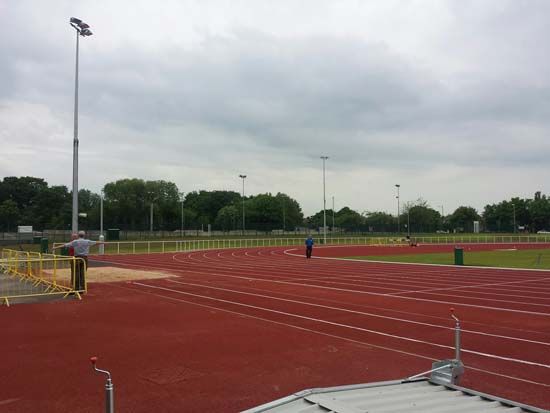 The same pattern of big name but local mentors will be replicated out on the 3G 6 a side pitches when Bernie Slaven, Gary Pallister, Craig Hignett and Curtis Fleming bring their considerable playing and coaching experience and personalities to inspire kids in their new Reds Football Academy. Bernie was coaching the night before, you could tell from the throngs looking on through the fence. There is also one artificial and one full size grass pitch for football. The artificial surface can be converted to two 7 aside pitches.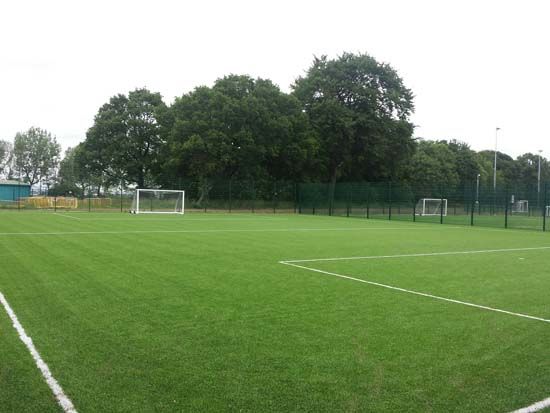 Just beyond the football pitches is the superb 1km cycling circuit where you can cycle safely without any worries of traffic. Ring ahead and you can use your own bikes on the track for free. For kids it is an excellent place to come and try out equipment here for size before you buy your own in the shops.
But the cycling facilities soon won't stop here because looming large beyond the cycle track are the high bends of the new Olympic length velodrome. It is a £1 million partnership between Middlesbrough Council and British Cycling and will actually be completed by the end of the summer. These facilities are flying up. Just like the sports village this will be the only facility of its kind in the north east, in fact you would have to go to Glasgow or Manchester to find a comparable track.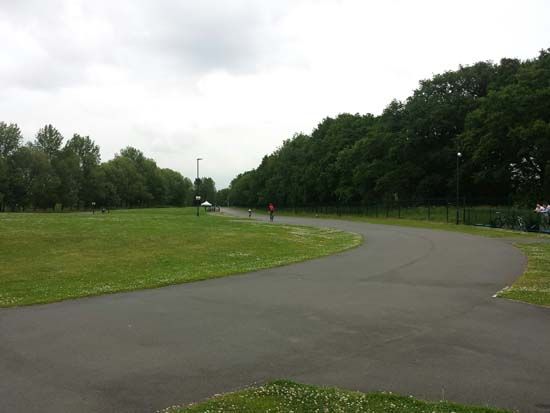 Middlesbrough has long been a running town, for a population of less than 140 000 we probably overachieve in most sports really. We were once also known as a cycling town and the new state of the art faculties should help us return to our two wheel successes.
There was just time for the kids to dive back into the play area, notably open to slightly older ages than many of the other play areas in Teesside. But then again kids aren't allowed to use the gym so they get their workout here and tremendous enjoyment at the same time.
I really cannot tell you how excited I am about the sports village. I can hardly believe it was completed in such a short time and to such high standard. There were hundreds of school children bussed in for school sports days all last week absolutely loving the experience. If the Olympic legacy has largely failed nationally we will surely buck this worrying trend in Middlesbrough and on Teesside through this state of the art sports village. It will be a phenomenal legacy that should inspire a new generation to put down their consoles, phones and tablets and take up a sport for leisure, fitness, camaraderie and pleasure. The kids told me that there is nothing like this in Hong Kong. How lucky are we?