At the first press conference of the new season manager Aitor Karanka was asked about his reaction to the news that Stewart Downing wanted to return to Boro. Aitor replied that he could hardly believe his ears when the chairman phoned him with the news.
To sign a player good enough to be selected for England just last season and a player prepared to take a sizeable pay cut to drop down a division to play for his hometown club, Aitor could not believe his or our luck.
What an incredible signing Stewart Downing will be for Boro. The prodigal son has returned, not when he is burned out and over the hill but at the height of his powers.
I chatted with Stewart at the end of his press conference at Hurworth. It was a case of same place but different faces for the former left wing wonder as he reacquainted himself with the training ground HQ. The excitement to be back at Boro was written all over his face. Now he is poised for his first league return to the Riverside.
Here's hoping it is very much happy returns for Stewart Downing.
Fly: Is it good to be back?
Stewart Downing: Yeah great. I have settled in really well, the lads have been really good and the manager. Everyone has made me feel really welcome, so it has been quite easy to settle in and I just can't wait to get started.
Fly: You have said before that you always wanted to return here one day but it is great to have you back when you are still playing at your very peak.
SD: I didn't really want to come back at 35 or 36 when my legs are shot to pieces. I wanted to come back to do well and feeling fit and healthy. I feel in good condition. I played all the games last season. So, I'm looking forward to playing regularly and doing well because the aim for us is promotion so I need to stay fit.
Fly: You certainly need to be fit in this division as there are so many games.
SD: The manager did say that to me. Obviously it is quicker than the Premier League. It is a lot more hustle and bustle and quicker. You probably get a lot more time in the Premier League on the ball. I noticed that straight away, as soon as you get the ball people are closing you down and clattering you.
So, it is a difficult league to get out of, it is tough. But I think with the players we have the quality we have, we can beat teams quite comfortably the way we pass and move and with the confidence the manager puts in the players. So, I am really looking forward to it and I am playing with good players around me so that will help me as well.
Fly: You must remember when Paul Merson came to Middlesbrough and made all the difference to our promotion push in 1998.
SD: Yes Merse. He was unbelievable wasn't he? I wouldn't say single-handedly but he was a massive factor in getting us up wasn't he? He was that little bit of quality at the top end of the field. We had a really good team that year. There are similarities to this team; we have very good technical players and strong players as well. They are a good age. Young lads. Woody and me are probably the oldest. I think there is a good mix. So we have got a really good squad and I am really confident that we can get promoted.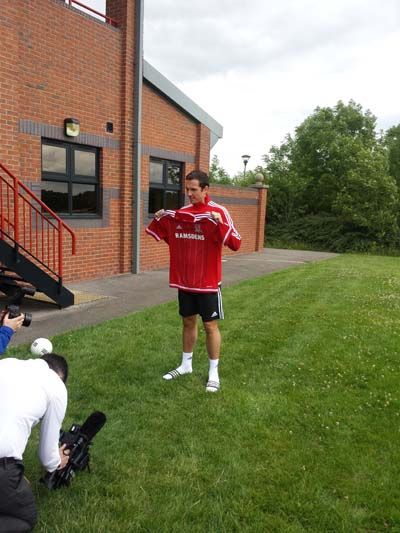 Fly: You have stepped down a division but Paul Merson ended up taking a penalty for England in the World Cup at the end of our promotion season. There are European Championships at the end of this campaign.
SD: Yes. I know. I am not trying to be negative if I am picked I will go straight away. It has been unbelievable playing for England but I just see it as the circumstances, I went and played with an injury and there were things going on in the background that I wasn't happy with. I didn't get picked for two or three squads after that so you have got to be realistic and think I am not going to get picked. But if I do, brilliant. But I think it will be very difficult playing in the Championship and getting picked but as you said we saw that with Merse, so maybe things will change.
Fly: You have played at the Riverside when it has been full on some fantastic European nights. You will have heard that we now have Boro fans at both ends of the ground. Red Faction…
SD: Behind the goal?
Fly: There is now Boro atmosphere at both ends.
SD: Oh right. That will be good. It saves me getting stick from the away fans at one end.
Where are the away fans, then?
Fly: The away fans are in the East Stand. Near the big screen. Have you seen that there is now a big screen?
SD: No.
Fly: The big screen is in the corner to the right when you come out of the tunnel and the away fans are in the stand near there now, facing you.
SD: Oh that is different then. I didn't know that. Well, that is good. I have not spoken to the chairman about this but I think they are on about 15 000 season tickets at the moment. So if you get that amount going every week and then the only way you to get more in the stadium is basically to win games. We have to win and start well. Then there will be people coming on the day. If we can get 20 000 and we saw v Brentford we had 30 odd thousand. So, as at any club the only way to get fans in is to win and play well. We know what we need to do to get them back.
Fly: Have you heard that we regularly sell out our away allocations now?
SD: I can imagine that, even when I was here, struggling or doing well, away it would be packed every week. We have always taken a good following at the Boro. You need that support don't you to get behind the team. The lads have said to me before we always take unbelievable fans away.
Fly: Is everyone buzzing in the dressing room?
SD: Yes. It is always nice when you see new faces come in the door. I would be the same if someone walked through the door today, if the Chairman has signed a striker or a midfielder. It is like, here we go. It gives the players a lift and you can sense there's buzz. The Chairman is having a go with his finances. We kept the team together from last year, obviously there has been one or two in and out but we are adding to that. So, it is all set up for us to do well and all we have to do is carry on from last season and do what we did and just add that little bit and go further and get over the line as quick as we can.
Fly: Are you looking forward to the challenge?
SD: I can't wait. It obviously is a big challenge. Getting out of the league is difficult. The lads told me that last season getting to the final was difficult. It is a demanding league playing twice a week at times but we have got the quality to do it and we need to get over the line as quick as we can. We don't want the play offs, we want automatic promotion. If we have to do play offs we will do it and win it but the aim has to be automatically go up.