A Boro legend is giving booze the boot for a month – and he's urging others to follow suit.
Neil 'Maddo' Maddison will be kicking the drink into touch as part of the annual Dry January health drive. And he's getting the ball rolling ahead of this year's Alcohol Awareness Week later this month to give as many people as possible the chance to make a similar pledge.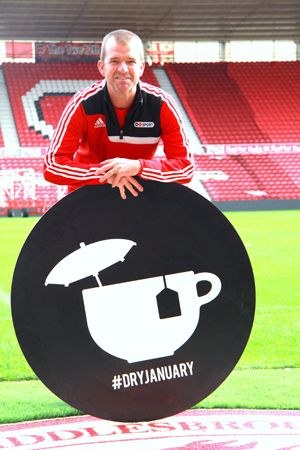 Middlesbrough Council, in partnership with Balance, the North East Alcohol office, is challenging people in the town to make a resolution to ditch the drink for 31 days.
This year's theme is 'Kick start the new you' – and Neil launched the challenge recently pitch-side at Boro's Riverside Stadium.
Neil – now best known as BBC Tees' Boro expert summariser alongside Ali Brownlee – is working with Middlesbrough Council's Improving Public Health Service to raise the campaign's profile.
He said: "Many of us enjoy a drink, but like everything in life moderation is the key.
"Dry January's a great opportunity to take a break, relegate the booze to the subs' bench and enjoy the health benefits.
"I'm going to give it a go and I hope as many people as possible will join me."
National Alcohol Awareness Week – from November 16 to 20 – encourages drinkers to think about cutting their level of alcohol consumption and even ditch it altogether for the 31 days of January.
Dry January – now in its fourth year – challenges people to put the excesses of the festive period behind them and adopt a fresh, healthy start to the new year.
Benefits of a month off the booze include weight loss, better sleep, more energy, clearer skin and a few more pennies in the pocket, as well as reducing the risk of developing health problems.
Last year more than two million people cut down their drinking for January, and organisers are hoping to improve on that figure this year.
Edward Kunonga, Middlesbrough Council's Director of Public Health, said: "In Middlesbrough there is a real need to encourage people to change unhealthy drinking behaviours, drink in moderation and take time out to let the body recover.
"Alcohol-related harm has a significant impact on individuals, families and communities, and contributes to premature deaths, preventable illness and avoidable demands on services.
"Dry January is a great opportunity to break the cycle, and make some really positive lifestyle changes."
Mary Edwards, Programme Manager Alcohol Treatment at Balance, said: "New Year is the natural time to take stock of our health and make a fresh start, and accepting the Dry January challenge is the perfect way to commit to taking a break from alcohol.
"Drinking more than the recommended limits can have serious long-term implications for health, with proven links to seven types of cancer, plus conditions including liver disease, anxiety, stomach ulcers, raised blood pressure, strokes and dementia.
"Studies have shown that even just one month without alcohol can have positive effects on health, meaning there are real benefits to taking part."
Councillor Mick Thompson, Middlesbrough Council's Executive Member for Communities and Public Health, said: "Having a drink is an enjoyable and sociable part of a great many people's lives.
"However the trend for excess consumption is a major concern for the Council, the police and the health services.
"Promoting sensible drinking is of paramount importance if we are to address the social and health issues linked to excessive alcohol consumption."
To sign up to Dry January, find out more about the campaign and to access a wealth of support and advice, visit the Dry January website at www.dryjanuary.org.uk
I posed a few questions to Neil Maddison asking him about Dry January, his own career at Middlesbrough and in the top flight at Southampton and also about his thoughts on the Boro this season.
Q: Is this a good idea after the excesses of Christmas for people to slow down for a month?
NM: Yes, I think it is a good idea. I have got a do to go to a family do on New Year's Eve and there is going to be plenty of drink flowing. I will be drinking until 12 o'clock and that is me done and I think it will help me as well because drinking a few glasses of water during the session will help me recover quickly the next day. But listen it is only for one month and after Christmas you have got to get yourself fit and it will gee me up to do a little more than I would normally do.
Q: Help with your commentary on the 2nd of January I think it is.
NM: Yes, the commentary. I don't think we need drink to help us with that anyway. But I think it is just a good idea, you are detoxing, changing your lifestyle around. I will have a look at the effects and if it helps me then I might carry on doing it.
Q: You are now working at MiddlesbroughCollege in sports coaching.
MN: Certainly. Middlesbrough College is a fantastic place to work. I run the 16-18 year olds there. I want to promote it in the college as well and see how many people can do it. I think it is a good idea. It is not going to hurt you, for one month only and if you want to carry on so be it. If you don't you can go back to having a casual drink, it is absolutely fine. But yes I am going to try it and I will try and promote it round the college as well.
Q: At Boro there were many players that were teetotal during the season, Bernie Slaven, Tony Mowbray, Paul Kerr spring to mind. Can it help you keep you fit?
MN: Yes you play as long as you can, I was lucky enough to play until 37. If you can go past that brilliant. But play as long as you can and I think not drinking will certainly help you to do that.
Q: Before Boro you played at Southampton with some top players. You were a very good team as they are again now of course.
NM: Some top players. Shearer, Le Tissier. Don't get me wrong we weren't massive drinkers but on a weekend after a game you would like to socialise and go out with your families and have a drink and have something to eat. And that was part and parcel of football but now I think you have got to look after yourself a little bit more. The rewards now in football have certainly changed, a lot more money involved. People say make as much money as you can in football because it is only a short career and that is the case. So if you look after yourself you are going to last longer in the game, barring you stay away from injuries. I think not drinking is a great idea.
Q: When you look back at your career what were the highs at Southampton?
NM: Well, the highs at Southampton were certainly staying in the top division all that time. We had limited resources, a good youth team set up just as Middlesbrough have here and we kept in the top flight certainly all my career down there. They were the highs for me. The low points, I had a serious injury when I was a young kid that kept me out of the game for two years. Southampton is a fantastic club. It has totally changed now, compared to back in the Dell days, they are now at St Mary's. The training facilities are second to none now. It is an amazing place to go and play and I'm delighted they are doing well. Football changes, we all change. Dry January, lets all try it.
Q: A couple of questions about Boro. We are all hoping this will be a promotion campaign and I well remember you playing in a promotion campaign here at the Riverside. Can I take you back to 97/98 and a night match where we had to score 6 against Swindon to go top of the league and we did it. A great night at the Riverside. You scored 2 in that total.
NM: I did yes. It was a good night. I can remember that night because people were saying come on I've had 6-0 with the bookies, make sure it is SIX. We didn't realise that we had to win 6-0 to go top of the league until after the game.
Q: Really?
NM: Yes. We heard it around the ground, a few people saying, come on it has to be 6-0. We were thinking, what are they going on about? But on the night it just clicked, everything happened well for us. We had some good players. We had…
Q: Marco Branca…
NM: Yes, Branca, Merson, Townsend and Nigel Pearson. Top pros. Leaders. Who wanted to win games and I think that was the difference with that side. Really good players. Fought for each other and it was a good team, good set up. Bryan Robson changed the club's outlook altogether. They were great times.
This season, I am keeping my fingers crossed. It is a big season for us. Last Saturday's result is disappointing for us but I think Hull will be up there certainly. I think they will definitely get promotion and if you finish just below them, I think you will be the other team going up.
Q: They looked strong at the back and the front. You could see they were very experienced players.
NM: Yes, just no nonsense at the back. I think it was the first time I have seen our defenders have a really tough afternoon. Ayala, George Friend, it was a really tough afternoon for them but they are a good side. I listened to George Friend's interview afterwards and I thought it was brilliant. He said we have been beaten today and the Championship is like that. Let's see what they are like when they come to our place. I'm sure that when they come to our place the lads will be fired up and they will try to get one back over them.
Still close, all to play for, next game, QPR at home, great opportunity to get 3 points on the board in front of the cameras and get us back on track.
Q: Already this season we have seen some great games and results. Away at Man United of course and a great prospect to come filling the Riverside for the Everton Quarter Final.
NM: Yes, I think the Man United game will live long in everyone's memory. Everton is a good draw for us, we are at home. They will be bringing a big following. I'm pretty certain this place will be absolutely bouncing; it will probably be a full house. It is a good opportunity, two games away from Wembley. What a fantastic opportunity that is. Who knows? Everton are a good side I have watched them play but so are we. The lads will be up for it. I think Aitor will field a pretty strong side because he knows how close we are to Wembley and it is a great occasion. I'm sure we will do well.  We will do the north east proud.
Q: There is still a long way to go but we have a big period now don't we with a lot of games that can make all the difference.
NM: Well if you look at the games coming up now, you have got some really tough games. QPR at home, there is Brighton away. Teams that are around us. Saying that they are all tough in our league. But I think the mentality is go out in each game and try and win the game, try and get 3 points on the board. If it doesn't happen like that you go to the next game. But you have to keep in the top six, keep in the top four possibly for us. You have got to keep in the mix of them teams near the top two. If you can get in the top two it is up to you to stay there, it is up to you to be the one that says right try and knock us out of that spot. Get in that position and stay there. We have been there a couple of times this season and been knocked out. It is a long way to go and I just think it is all there to play for and hopefully I think we have got the squad to do it.
I would certainly strengthen in January though when it comes. I'm pretty certain we will if we are still up there. It is all to play for and it is going to be a good season for us.