Join a community running group and get in shape for 2014 Middlesbrough 5k Riverside Run on Sunday, June 1.
The sessions are free of charge and are open to all runners of all abilities, even those who have never run before.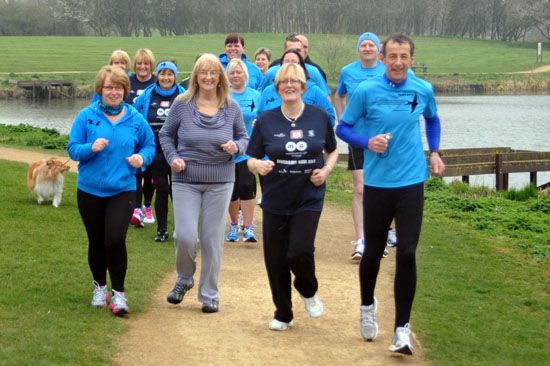 I chatted with Pete Samson a member of Swift-Tees and also one of the coordinators for Middlesbrough Community Learning Service and he told me of his involvement and how running is helping people.
Pete Samson: We are responsible for some of the government funded money which is put back into the community and we are working with Swift-Tees for a 'get into running' course which is for complete beginners.
The first course is for complete beginners and the idea is that through the club we help them train towards perhaps a parkrun and with a time limit, although it depends really as everyone's different of course.
Some people have never run before and I like the idea of walk to run. So it is just a case of basic exercising and then maybe a little bit of a jog. So the coaches from Swift-Tees have written a programme to get people moving a bit with the ultimate aim of doing a parkrun or other 5k.
So, because I am a member of Swift-Tees I can see the benefits obviously for my self. For example my own daughter comes now and she brings a friend and her friend's brother is coming on Wednesday night and it spirals like that. It is a very good family orientated club and a really nice way of exercising I think.
Q: You get a cup of tea afterwards.
PS: Absolutely, in fact my daughter is baking cakes this afternoon for the training on Wednesday. Even things like that, it is all relevant really isn't it?
Q: And we are talking about some people that might not have previously have even dreamed of running for instance.
PS: Absolutely. If you took a cross section of the people involved in this it is all walks of life, all ages, all sizes. It doesn't matter. And I think the ways that the coaches organise the training is very important because there isn't a winner or loser and everybody is equal and I think that makes everybody feel good. It is a bit like when you are a kid at school. You'll go in goal won't you? Because you are rubbish (laughs)
Q: Last pick.
PS: So I like the ethos and I like the way that they deal with it that way. Everyone is the same and everyone feels brilliant at the end. The best cup of tea of the week, believe me, is after the training.
Q: And Middlesbrough 5K is a nice goal to target, isn't it?
PS: Absolutely. I did my first Middlesbrough 5K last year and of course when you finish in the stadium it is a wonderful feeling. I am a Middlesbrough boy, to run through that tunnel with the music. You think this is fantastic. And I think that is part of it because when you are training, I don't train very well on my own I don't think and everybody encourages everybody else and I think again that is very much part of the ethos of the club.
Community Running Groups meet –
Tuesdays, 9.30am: meet at the Habinteg Community Centre, Cresswell Close, Hemlington
Wednesdays, 6.15pm: meet at the Habinteg Community Centre, Cresswell Close, Hemlington
Thursdays, 6pm meet at the CaptainCookBirthplaceMuseum, Stewart Park
Anyone can come along. All abilities welcome.
For those bitten by the running bug, the sessions will help pave the way to a training programme for the popular Middlesbrough Tees Pride 10k Road Race which returns for its tenth edition on Sunday, August 31.
The two races have proved a magnet for local runners, and continue to grow in popularity with many not just aiming for a personal best time but also raising money for great local and national causes.
Councillor Nicky Walker, Middlesbrough Council's Executive Member for Environment, said: "The Riverside Run (5k) and Tees Pride 10k are now recognised as among the best runs in the region, and attract thousands of runners to Middlesbrough from far and wide – and we want as many people as possible to feel able to take part.
"The Community Running Groups are open to all, and offer support, advice and training partners to help people prepare for the Runmiddlesbrough events.
"It's a great opportunity to train alongside qualified coaches at any of the three following weekly sessions, and is just the incentive people need to get started and stick to a training schedule."
For further information about the sessions or to register, contact Scott Hydon on 01642 515625 or email scott_hydon@middlesbrough.gov.uk
For further information, training plans and to sign up for the Runmiddlesbrough 5k and 10k 2014 races, visit www.runmiddlesbrough.com